[ Sunday Times ] - [ Mar 10, 2012 22:04:27 GMT ]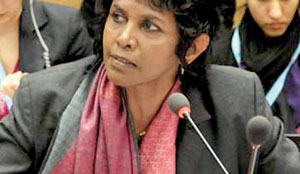 As discussions proceed at the 19th sessions of the UN Human Rights Council in Geneva, it becomes evident that the US may not have as much support as it anticipated for its disputed resolution against Sri Lanka. While the draft has reportedly been circulated to member states of the HRC, clearly there are divisions of opinion in the Council over the US and EU backed move. While the Sri Lanka government's lobbying efforts may have had their effect, it would appear that opposition is being expressed towards the resolution for reasons that go beyond a mere desire to show solidarity with Sri Lanka. [
full story
]
---
Comments [ 3 ]:


written by Suneth (United Kingdom)
When look at diaspora comments here, one thing is sure. Sri Lanka is safe. Look at the comments. Never talk to the point, never satisfy with anything other than eelam. Never uderstand the situation these idiots are in. Never criticise themselver. AS LONG AS DIASPORA COMPRISE OF THIS TYPE OF IDIOTS. Sri Lanka is safe.
- Mar 10, 2012 23:36:33 GMT


written by karikalan1 (United Kingdom)
Srilanka should support the resolution, why they are opposing it if they don't have anything to hide? This lady sings for her bread and saying that the world should look at the developments going on, what developments? Budhist temples, Army camps, land grab, resources grab, these developments are for the benefit of the majority Singhalese.
- Mar 11, 2012 9:35:32 GMT


written by LankaLier (Australia)
Suneth Diaspora lived in Sri Lanka for sometime. In Sri Lanka nobody talked to the point that is why they got used to it.They have a right to ask for eelam if you want you too can ask for Lielam or something like that. That will suit all your culture and charractor
- Mar 11, 2012 23:43:20 GMT


Please register to post comments.

OR

Click here to login, if you already have an account.